Reclaimed Wood has uniqueness, intrinsic value, distinct aesthetic beauty, heritage, and history of origin. Want some? You will need to drive down old dirt roads, peer through the underbrush to find an old barn or mill. Now figure out who owns it and get permission to tear the structure down. Then hire the folks you need to get in there and dismantle it in a way that allows you to reuse it. Mill it, store it, and so on… or you could call someone who has done all of that already.
Revient was established in January of 2013 with a vision of creating an umbrella company that will grow into a powerhouse behind multiple other business ventures.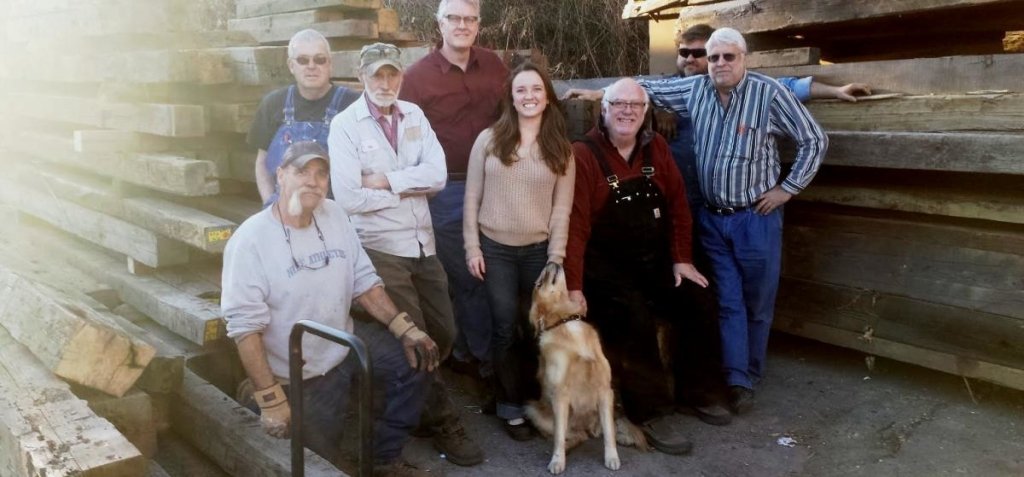 "Selling beautiful vintage lumber is our springboard to support economic development through a socially and environmentally responsible business model of providing unsurpassed customer service, product knowledge and fairness. Our team is diverse and well connected to multiple socioeconomic communities; including the mid-Atlantic industrial base, construction, design, building supply, high end furniture builders, woodcrafters, and alternative energy solutions." – Revient
Revient specializes in carrying wood from buildings built in America between 1860 and 1960. This is wood that can only be found in old growth forests so they have turned to reclaiming this sought after lumber from structures made of old wood. So Revient offers wood that is not only old, but also rare to find. So rare in fact that it is sometimes extinct or no longer available for timbering. These include Chestnut and Southern Long Leaf Pine.
Reclaimed wood is strong, stable, and durable.
A Lack of air pollution existed up to the 20th century.

Wood harvested from virgin growth timber had hundreds of years to grow.

Wood harvested many years ago has been exposed to changes in humidity for far longer than newly harvested wood. This also allows this material to be used with radiant heating systems.

The timbers have been expanding and contracting for over a century in their previous installation.

Decades of weathering produces less of a chance of drying, cracking, and splitting.

When trees are able to reach full maturity, they are able to form more heartwood. Heartwood is the center part of the tree that no longer transports water and nutrients, making it drier and more stable than the outer portion of the tree.
Unique Characteristics are found in reclaimed wood.
Vintage wood has weathered for generations in factories, mills, and warehouses, developing a rich character and patina that would be impossible to recreate in new wood.  Revient takes the utmost care in preserving the quality of the wood; from the moment it is reclaimed to the day it hits the showroom floor-an extraordinary level of quality control.  Reclaimed wood has been allowed to fully mature, unlike fresh cut lumber.  Because it is mature, old growth timber, it carries with it unique characteristics related to its age or prior function, which may include: Nail Holes, Shard Edges, Mineral Stains, Cracks and Splits, Tight Growth Rings, and Natural Previous Creature Activity.
Here's some of the major categories Revient offers.
What does "Revient" mean anyway?
"Revient is a French term implying, "to come back, to return".  Much can be learned from the past and we believe the business model of yesteryear still works today.  We provide high quality products at fair prices, and offer extensive product knowledge and customer service next to none. Our mission is to do business according to the "Golden Rule" while sustainably reusing our natural resources."